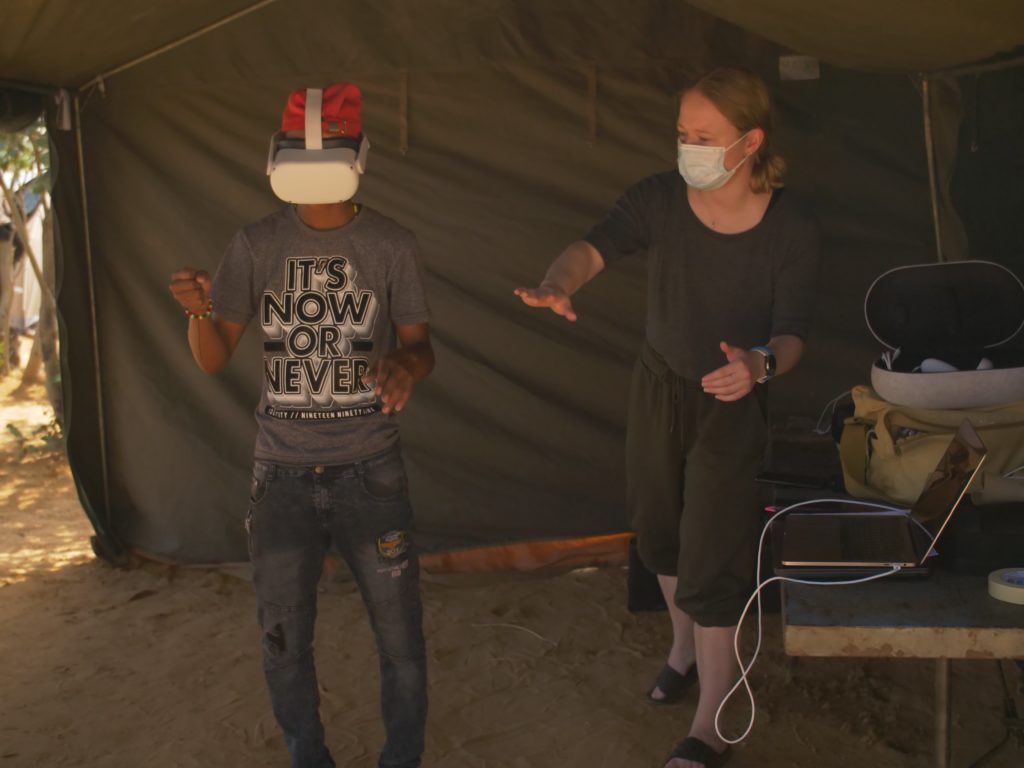 Advancing technology explorations in Donkerbos
In May 2021, the ICTECHHUB team, led by Professor Heike Winschiers-Theophilus and comprising of NUST researchers, students and photographers, took an escapade 4-day trip to familiar territory, Donkerboss. Here familiar faces, who have become accustomed to our presence, and us to theirs, welcomed and embraced us gracefully with smiles that portray the fundamental genuineness of the San people who are prominent and predominant in Donkerboss.
The trip served three purposes, technical explorations, website configuration and social amalgamation. The technical explorations, led by Emilie Arendttorp, a Danish Masters student from Aalborg University under the Namibian supervision of Professor Winschiers-Theophilus, were centred around testing and assessing a virtual reality space which is based on a rural community campsite. The virtual reality (VR) space allows for users to configure and outline the campsite with camping apparatus and other luxuries that may be desired. Donkerboss community members explored the virtual space and outlined the campsite to their preference, thereafter they expounded their experience and then carried out design modifications for the acclimatization of the space through a sequence of activities involving community-inherent hand gestures that they prefer for movement and control within the space. As the community members were exploring the space they were teetering as they were adjusting to the VR gear, however, after a while they became familiar and comfortable with the VR gear.
The second purpose was the website configuration and content creation. Under the partnership with MTC a selected number of websites are to be developed, one of which is for the Donkerboss community. As part of the development, the community members were extensively consulted thus to decipher and expound the layout and the content that is appropriate for the website. In addition, new content for the website was created. This included cultural dances, traditional dances and communal interactions in the living museum as per the traditional customs and rituals.
In 2020, the Donkerboss community participated in a local COVID-19 competition, for ehich they created a dance and play as part COVID-19 prevention and care awareness. Their submission in the competition was selected as one of the winning contributions, as such they won a laptop. The laptop was handed to the community in April 2021. During this trip, the ICTECHHUB team assisted them in setting up their laptop, together with a printer which was sponsored by the ICTECHHUB and MTC. These contributions, plus other community-based initiatives have reinforced the connection between Donkerboss and ICTECHHUB. In a closing meeting, the community members made mention of their gratitude towards the ICTECHHUB, as the explorations and contributions have elevated and empowered the communities. In the same vain, the ICTECHHUB thanked the community for allowing them in their environment, as it is a privilege, which the ICTECHHUB team appreciates and seeks to keep intact.