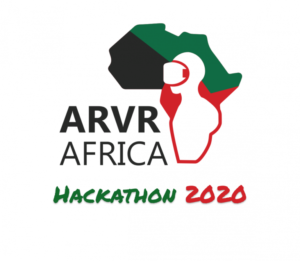 AR/VR Africa Hackathon 2020
The 2020 AR/VR Africa Hackathon is here. Another opportunity to showcase African innovation with extended reality technologies. We are calling all who love creativity, innovation and learning! The AR/VR Hackathon is an opportunity to learn about Augmented and Virtual Reality and other immersive technologies, meet new people, and get hands-on experience with AR/VR design and development.
What is an AR/VR Hackathon
A hackathon is a fun, fast-paced, strenuous, yet highly rewarding event where developers/coders, designers, strategists, and enthusiasts come together to work on project ideas and build solutions. The hackathon will focus on the rapidly evolving technologies of Augmented, Virtual and Mixed Reality. It isn't just about technology. It's also about design, creation, and problem solving. If you have an interest in art, graphics, 3D modelling, film, education, sound design, game design, or business, you will enjoy the AR/VR hackathon.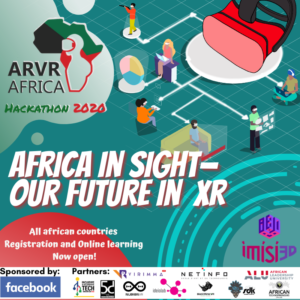 Event Theme
"Africa in Sight - Our Future in XR"
The theme for the AR/VR Africa Hackathon is 'Africa in Sight – Our Future in XR' with teams tasked with building solutions across 5 verticals: Education, Healthcare (including Covid-19 responses), Tourism, Gaming and Climate.
Structure
This year's hackathon will happen in two stages: an online stage and a 48-hour nonstop hackathon grand finale.
Online stage
The online stage of the 2020 AR/VR Hackathon will commence with registration from the 1st of August. Anyone on the African continent can register to participate in the online learning community. Once registered, participants will be added to the discord server. Here they will have access to learning materials, mentors, and resources to increase  knowledge of extended reality technologies as well as how to build real-world solutions using these technologies.
There will be different learning tracks such as ARCore, WebVR and Unity 3D. We are curating a series of workshops and masterclasses to support this online learning, as well as sponsored online challenges for participants to tackle.
48-hour nonstop hackathon grand finale.
The 2 day hackathon will hold in 10 African countries (Nigeria, South Africa, Mozambique, Egypt, Kenya, Cameroon, Tunisia, Ghana, Rwanda and Senegal).
Each country will have a country partner and team, to oversee planning and ensure the success of the Hackathon in their zone. The Hackathon will hold for 48 hours from 5 pm on 4th December 2020 – 5 pm on 6th December 2020. After this, winners will be announced and prizes distributed at all levels and the 2020 Hackathon will come to an official close.
Important Dates
Prizes
Hackathons come with benefits, and we've got some for you
For each country there is a total of $2000 prize money which will be split among 1st ($1000), 2nd ($600) and 3rd ($400) positions as described. We've got Unite Europe event tickets for 2 exceptional hackers.
After all these, you get exposed to a continent wide community of AR/VR Africa Enthusiasts, experts and Investors. We are super excited about this Hackathon and hope to see what you build. We hope you are excited too. Register now