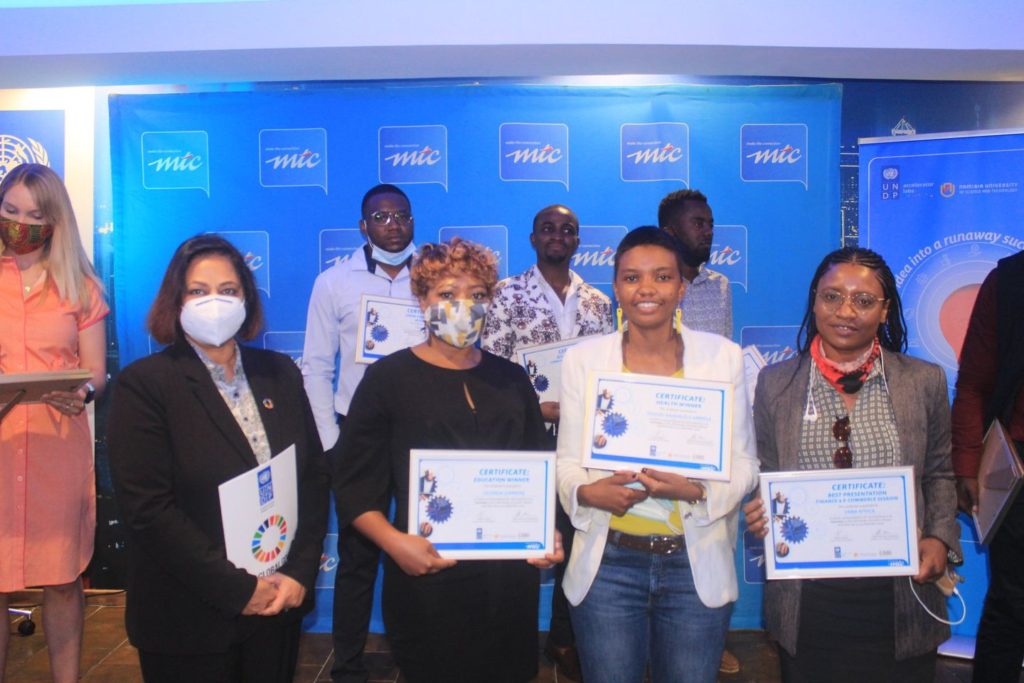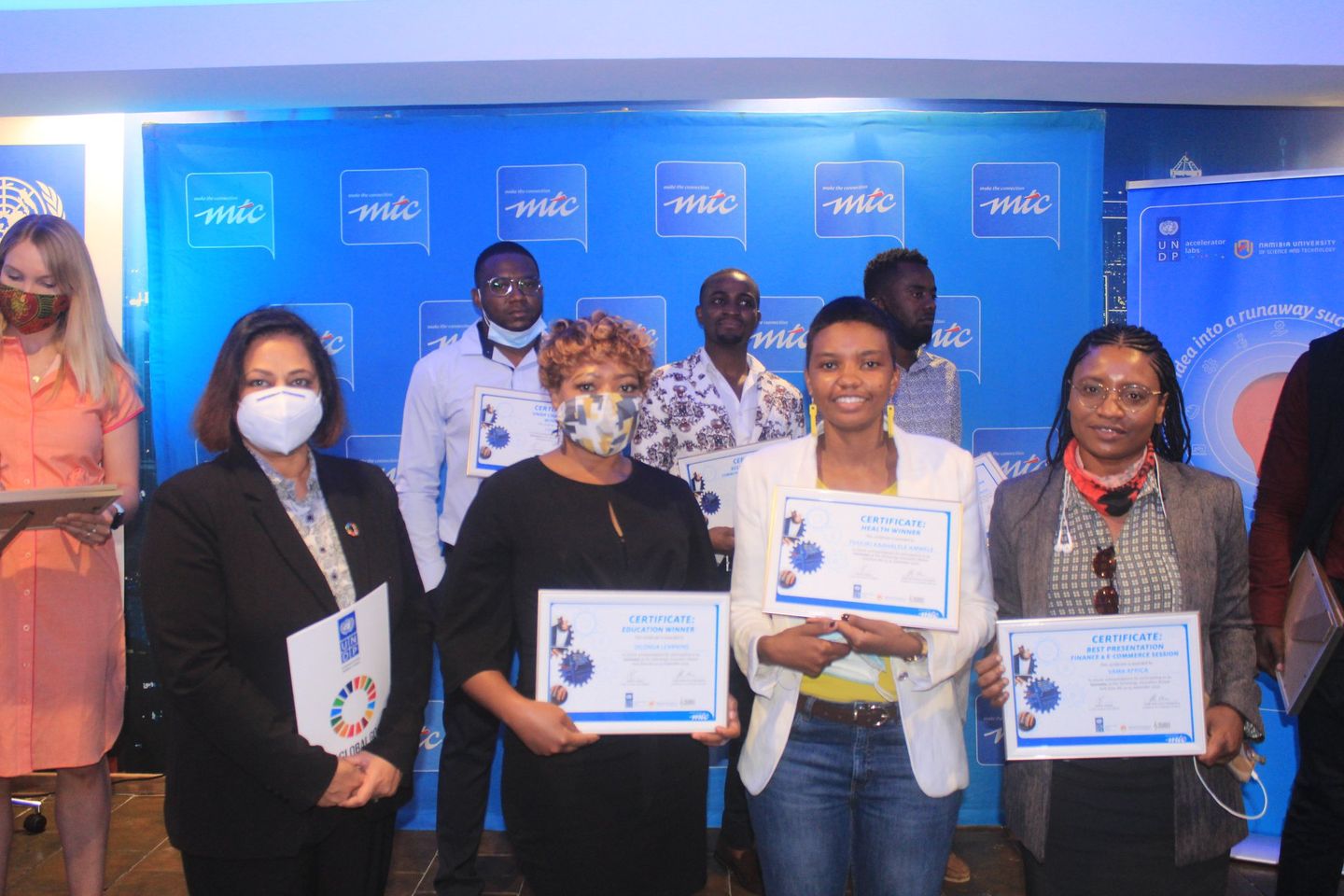 Technology Innovation Bazaar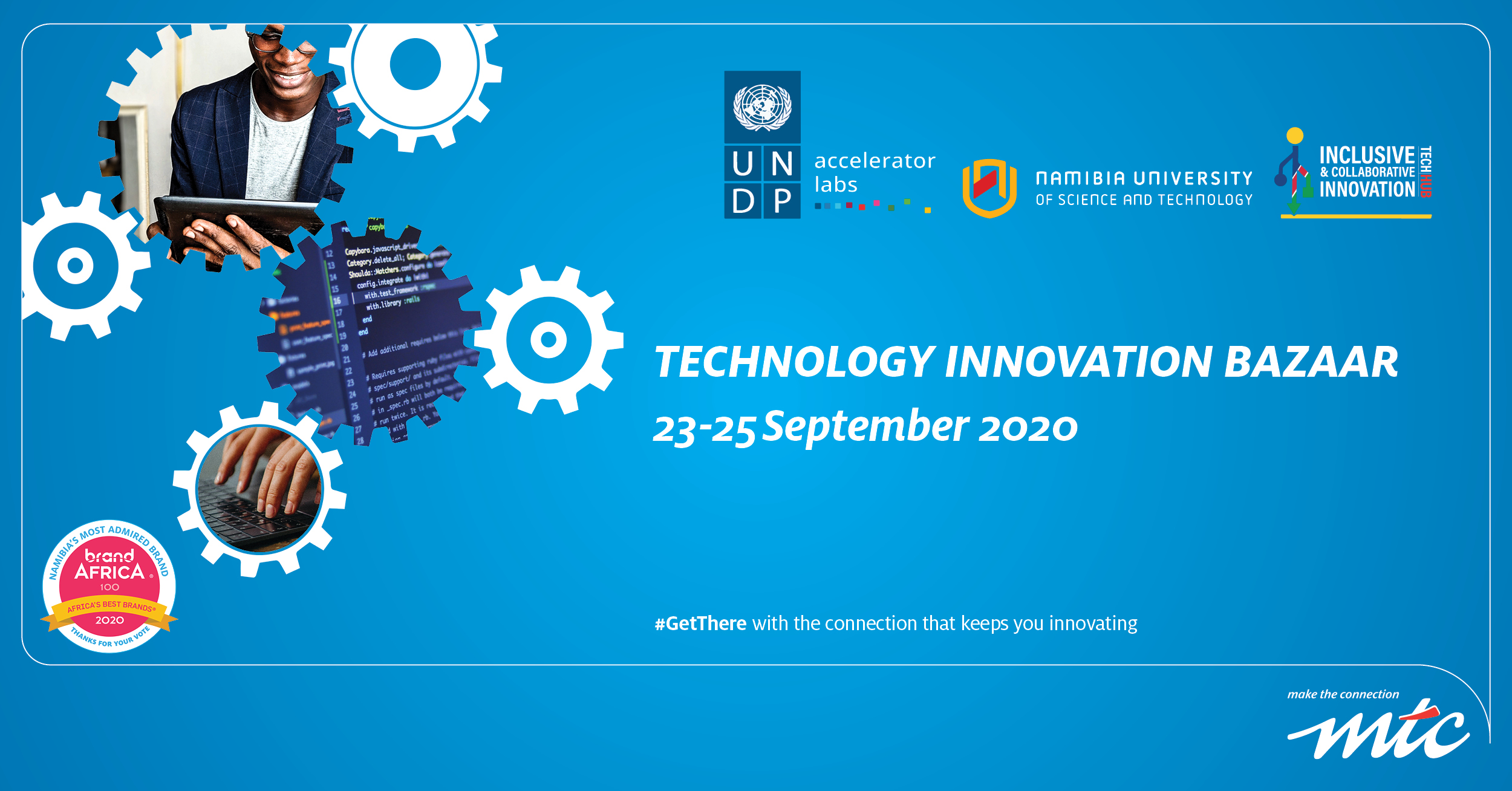 The Innovation Bazaar was hosted from the 23rd – 25th of September 2020, in partnership with the Mobile Telecommunication Company (MTC), Namibia University of Science and Technology (NUST), the Faculty of Computing and Informatics, the ICTechHub, and the UNDP Accelerator Lab. The Bazaar aimed at bringing innovators and their ideas together as well as connecting them to investors, key industry stakeholders, mentors and partners for them to market their innovative ideas to incubate and absorb their ideas into the market.
The opening ceremony kicked off with welcoming remarks given by Mr Melvin Angula, Chief Commercial Officer (CCO) of MTC. He highlighted the importance of creating and innovating our solutions to respond to local challenges.
The Event then welcomed speeches from local Hubs, for them to talk about the work that they have been doing and the Innovation services that they provide. The first speaker were Ms Omagano Kankodi from UNDP Accelerator Lab, Ms Helvi Itenge Project Coordinator for the EdTech Innovation Hub at People's Primary School, Professor Heike Winschiers-Theophilus ICTechHub lead and Mr Melvin Angula CCO of MTC. Lastly, the welcoming session was officially closed by Mr. Colin Stanley, Acting Dean Faculty of Computing and informatics.
The event took place over three days with innovators presenting and pitching their ideas in sessions: Agriculture and IoT, Health and Wellbeing, Finance and E-commerce, Communications and Media, Education and the UNDP challenge. The event pitching competition was not easy as the innovators all had exciting ideas. Based on the Judges for each session,winning innovations were chosen. In addition, based on the audience online polling results, we were able to identify the best presentation for the sessions.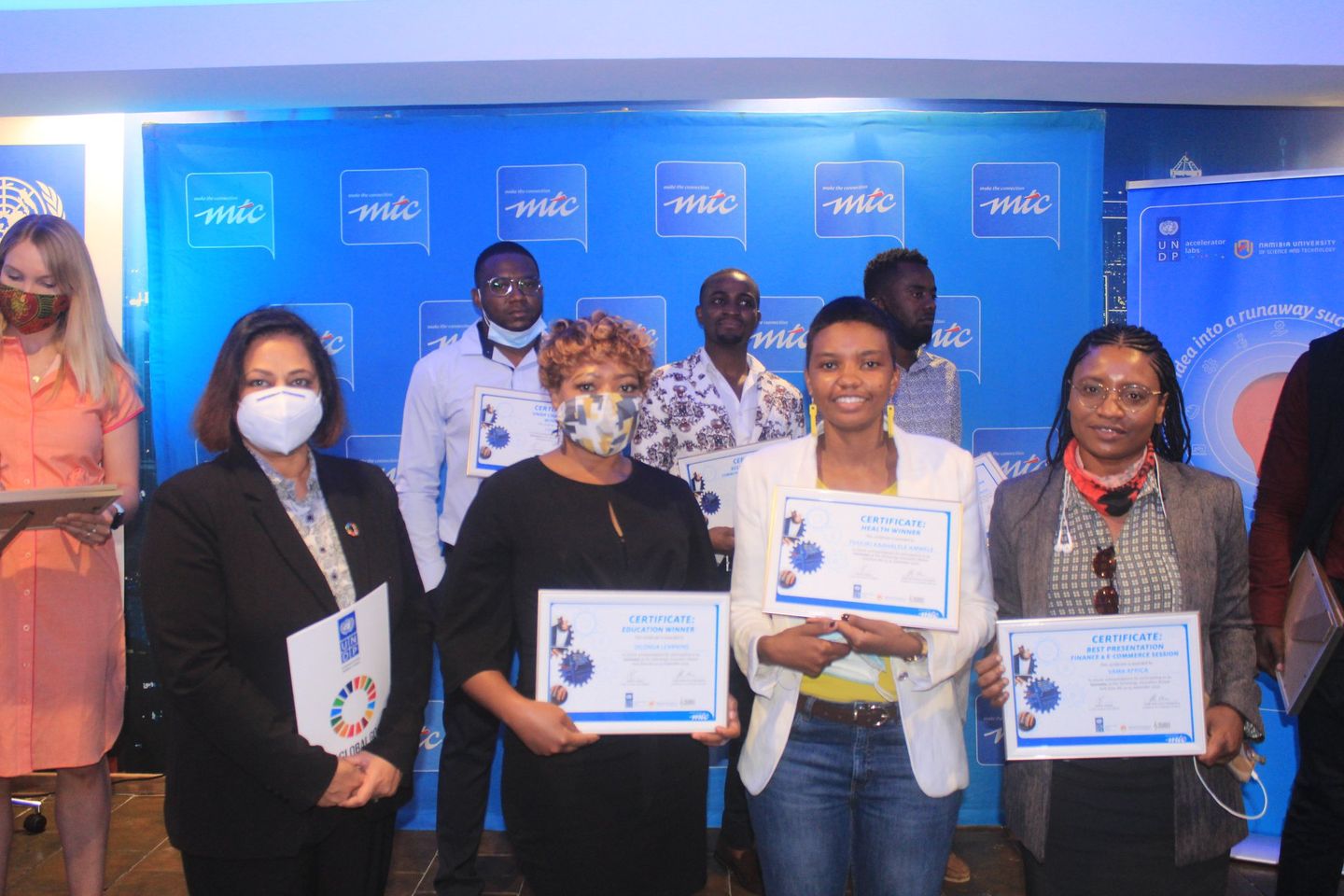 Innovation Bazaar Winners
Session Name: Agriculture and IoT
Team Name
Innovation Name
Description
Akathingo Leonard
Agrotech Smart Farming

Agrotech is a mobile app designed with the aim to help Namibian citizens with crop farming. Not only that Agrotech App is created to meet the government halfway in term of food security and provide statistic with regards to agricultural.

Session Name: Health and Wellbeing
Team Name
Innovation Name
Description
Tuuliki Kaahalele Amwele
Tuuliki Kaahalele Amwele

Software application installed on iOS and Android phones /gadgets, that allows PSEMAS members to subscribe and have access to the medical bills, access to open dialogue and engament with stakeholders and medical fraternity(doctors /pharmacys), in addition the doctors will also subscribe with a monthly fee, to be able to have access to a profile to be able to engage with members and read people's complaints ratings and suggestions about their practice, skills, etc

Pelgrina Ndumba Shimanu
Connect Africa

Project name is Talk-To-Me application. It is a mobile and web format stand alone application as a one stop shop application for all hearing and visually impaired people in Africa and the international community. The application supports all hearing and visual impairment to access different services such as business seminars, health, education, banking and other services just with a click of a button.

AWEH DOCTOR – Telemedicine
AWEH DOCTOR – Telemedicine

Telemedicine system to reduce the number of patients at public hospitals and clinics, our solution allows doctors to treat patients telephonically for minor chronic issues. AwehDoctor allows these patients to call into a health care facility call centre and receive the care they need from the comfort of their homes
Session Name: Finance and E-commerce
Team Name
Innovation Name
Description
Josef Rufuma
Kosafari

This local product was developed to sell out our tourism industry locally and to the rest of the world and attract tourist to visit some of the places not known yet.The system will attract domestic and foreign tourists to the tourism industry in Namibia, Africa and World at large.

Nghimwena Bruno

Windhoekdh.

com online shop

Providing a trusted and reliable online shopping experience for Namibians. We use targeted marketing to encourage Namibians to shop on our website. We are doing close to N$100,000 in monthly online sales. With more than 30% of sales coming from settlements far from towns.

Maria Immanuel
VAMA Africa

A Trade Facilitation e-commerce platform aimed at marketing SME manufacturers in Africa while empowering them with international trade tools & regulation to drive cross-border trading in regional integration efforts.

Session Name: Communications and Media
Team Name
Innovation Name
Description
Exploradio
Exploradio

Exploradio is a GPS based audioguide app which allows the users to listen to interesting information on historical and popular sights right on the spot. It also educates the listener on nature, flora & fauna. Furthermore it provides infotainment on traditions, cultures, local folklore, stories and interviews with Namibians firstly for tourists but also makes history interesting and accessible for locals.

WOW Spaces
Virtual Property

WOW Spaces is a business that's bringing Virtual Reality (VR) technology into the real estate industry in Namibia. With our Virtual Reality set up, real estate agents and property developers will be  able to give an experience of the unconstructed property and showcase it to clients. Clients will be able to interact with the virtual property, eg open doors, turn on lights and change wall colors and furniture.
Session Name: Education
Team Name
Innovation Name
Description
Yambeka Children
Digital Interactive Children Worldmap

A web-based interactive children worldmap, where children can upload their own content, view other children's stories, such as cultural, environmental and social narratives in form of different media (text, video, images, drawings). The children can communicate and explore the world together with children from another continent on-line. An offline mode will be available with different exploration features.

Elretha Rukira
Oilonga Learning
A multi-vendor web portal for online courses. This portal will allow anyone with internet access to design short courses and earn. Short-courses are a great way of picking up new skills and extending knowledge in dynamic sectors such as technology, the portal will allow hungry minds to indulge in economically viable skills learning in the comfort of their own home and at their own pace. This means that learners/students can study and work at the same time.
Session Name: UNDP Challenge Session
Team Name
Innovation Name
Description
RMEA
RMEA
Run Me an Errand Application
Jessé Liula Schiceya
Cyclon Pay
Cylonpay is a paygate developed for namibians, by namibian. Cylonpay is a type of paygate that accepts all currencies across the globe, thus uplifting the namibian economy. It's an easy to use method:
Businesses subscribe thus being given access to a wallet that will then display the funds received from their e-commerce applications. This wallet is a form of security that has features such as, withdrawals, deposit and transactions.
On the last day, the closing remarks were delivered by Mr. Melvin Angula, the CCO of MTC. He was inspired by the innovations that were presented and he further encouraged innovators to continue on the innovation journeys so that they can take their ideas to a national and international level.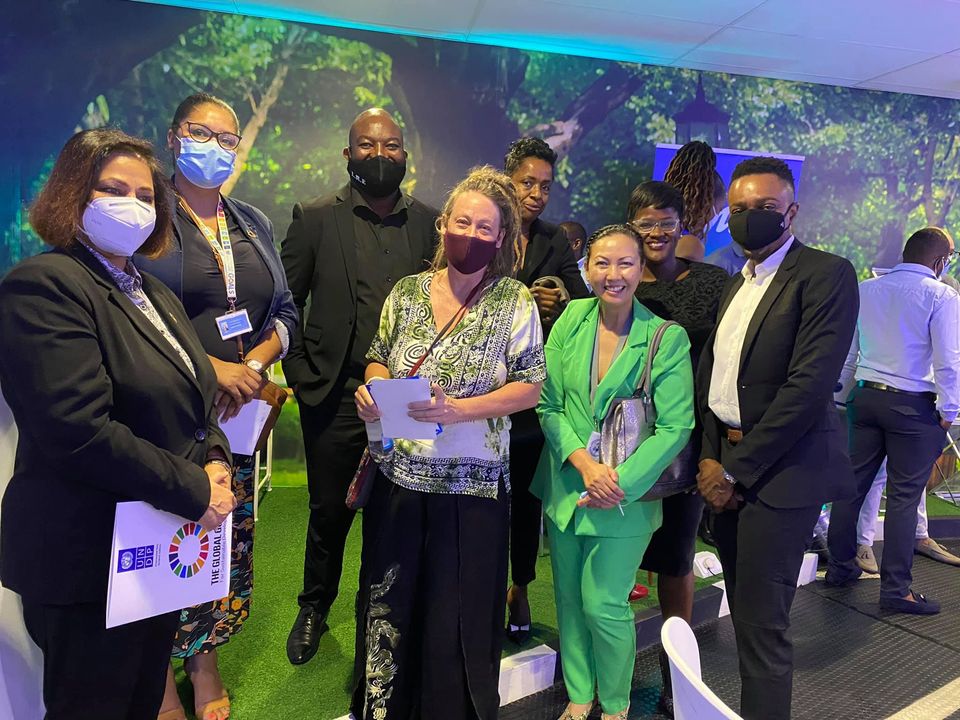 Finally, for further engagement and acknowledgment, an award ceremony for the Innovation bazaar winners was hosted on the 16th November 2020, at the MTC Innovation Centre. The award ceremony recognised the winners for their exceptional developments and they were also given a platform to network with stakeholders and with one another.